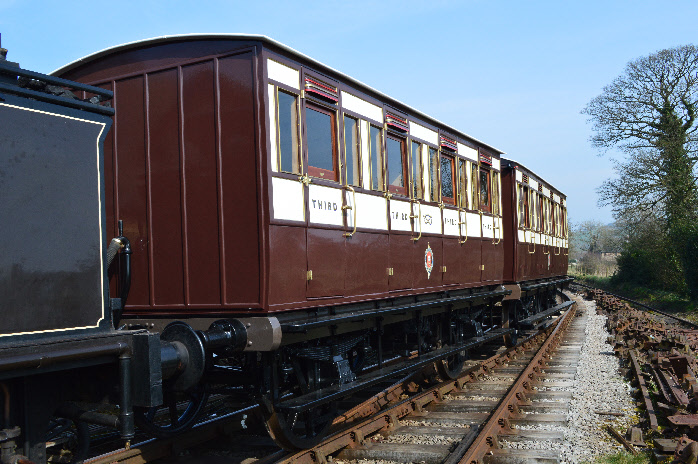 This carriage was built in the mid 1870s, probably 1876 (see below). It was almost certainly constructed at the North Staffordshire Railway's own works in Stoke-on-Trent, in the carriage and wagon shops alongside the Trent and Mersey Canal which still stand today (locals will know "Hyde Park Tiles" as the actual building). The coach is of a typical early NSR "deep waisted" panel style with square corners, and the hallmark end panelling style of seven long thin panels up to eaves level. It is only 20 long by 8 feet wide, with virtually straight side framing, small windows, and four doors on each side. The carriage is divided by a single partition into two pairs of compartments, with a single oil lamp hole provided to illuminate both. Each seating bay is lettered A to D and, being less than 5'0″ wide with narrow wooden seats, the passengers would have had to sit with their knees virtually interlocked.
Many carriages were built by the NSR to this basic size, for close-coupled sets intended for use on the Loop Line services, though they were also employed much further afield. Later examples were wider and better equipped. After 1897 they were equipped with electric light, but they never received any form of train heating.
The four wheeled oak underframes of these carriages were originally carried on grease lubricated axleboxes in outside "W" irons and long springs. NSR oil axleboxes were fitted later. The short wheelbase of only 12 feet must have created an uncomfortable ride at speed. The poor lighting and lack of heating would have made long journeys such as on the NSR Market Drayton line, along which these small carriages were frequently used even in the late 1890s, insufferable.
A handful of such carriages even lasted until 1923 in workmen's trains but were promptly withdrawn when the NSR was taken over by the LMS. For a slightly later, longer example of this type of carriage also preserved at Foxfield, see 4w third number 127.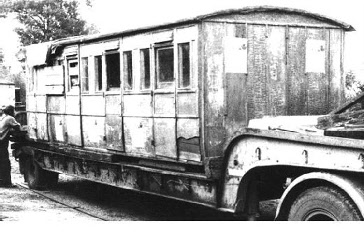 There is a record of number 61 being involved in an accident that befell the 5.43pm train from Rocester to Ashbourne on 1 February 1900, in which appears to have been the third vehicle but was undamaged. A replacement carriage, a six-wheel five compartment third, was built by the NSR in 1901. At that date number 61 would have been placed on the "duplicate list" renumbered 061 and withdrawn as soon as any major repair became due. Three identical carriages to number 61 were converted to milk vans by the NSR in 1907. These three (numbers 56, 57 and 60) are recorded by the NSR as built in 1876 so this may confirm the exact year of building for number 61.
It did not survive in service long enough to be equipped with electric light, and it is not known exactly when 61 was withdrawn and the body separated from the underframe so it could be grounded, but it was probably by 1910. It was used as a platelayers' hut in the goods yard at Tutbury station on the NSR line to Burton-on-Trent. By the late 1920s the body had been sold on even from this humble duty, and became a garden shed at a house in Tutbury.
Remarkably, the carriage body survived in this use in good condition until the mid 1970s, when its historical interest became apparent to the owners, Mr and Miss Melbourne. When they wished to extend the house and dispose of the body of number 61 they kindly allowed its careful removal and it arrived at the Foxfield Railway by road in Autumn 1976, by then 100 years old.
A partial restoration was carried out while the body of number 61 was located on the wooden platform at Foxfield Colliery, but on 11 October 1992 it was placed temporarily on modern underframe number 3415, one of the CEGB flat wagons (ex tank wagons), and moved to Caverswall Road station for a full restoration to commence. This took place under the canopy at the side of the museum building and was completed when moved inside the building, where it is now displayed
Wherever possible the original panels have been retained, but a new central seat has had to be constructed. One interesting find during restoration was some football graffitti engraved on one of the windows: "Derby 1 Bolton 4" but it is not known which year this might relate to. Internally the doors and walls have been stained and painted as they would have been originally, and the exterior carries 1870s livery as far as the available evidence indicates.
A under-frame from a passenger rated Midland Railway 12 ton van dating from the early 1920s has been lengthened by 2'6″ and fully restored to carry the body of number 61. This will not be entirely authentic as the metal frames and inside W irons are very different to NSR practice of the 19th century. However, it should look the part and most importantly allow an experience of this ancient carriage on the move once again, literally to be transported back into a forgotten age. All work on the under-frame has been carried out at Foxfield by volunteers.