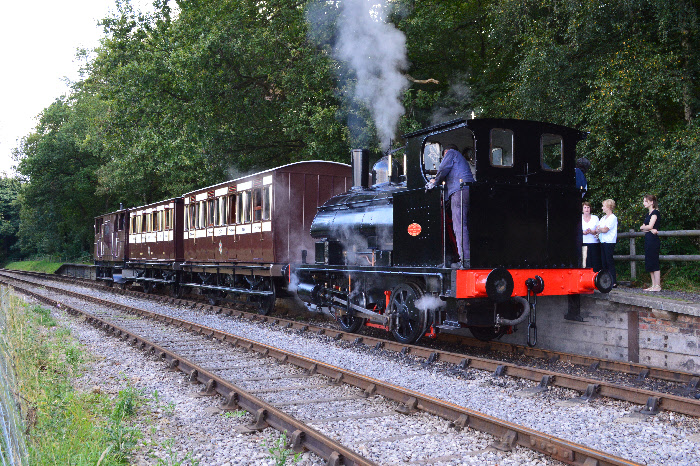 This carriage is similar to NSR 061 and has the same style of square panelling, but the waist panels are shallower and it has rounded window bolection mouldings, indicating that it is probably of slightly later building date. Indeed it may date from after 1876, the time the North Staffordshire Railway began to adopted a "waistless" panel style very similar to the LNWR for its prestige new six-wheeled stock, and altered the style of its humble four-wheeled stock too. In any case it must have been built by 1884 as (apart from a couple of workmen's vehicles) the NSR built its last four-wheeled carriages that year. It was probably built at Stoke Works, but may have been part of an order for a whole train from and outside contractors. At 22 feet in length it is 2 feet longer than number 61, but it ran on basically the same design of simple 12'0″ wheelbase underframe and 3'6″ Mansell wooden centred wheels.
Inside it was initially very similar to number 61, with just a single partition in the middle and two oil lamps, each serving two compartments. The main difference was 6 inches extra legroom in each compartment. However the fact that there are six oil lamp holes in the roof reveals a key modification at some time. Two additional thin partitions were added to make four separate compartments, for which four later lamp holes were cut. The mortice joints for the later partitions can also still be seen.
A replacement five compartment third class carriage was built in 1902. As a result number 127 would have been relegated to the duplicate list that year (renumbered 0127), and probably ended up on workmens trains for colliery workers. Eventually it would have gone into storage at Cockshute carriage sidings in Stoke, pending breaking up. One way or another, its body soon found its way to Waterhouses, on the famous narrow gauge Leek and Manifold Light Railway, which provided a last resting place for many old NSR carriages as waiting rooms, cycle sheds and stores.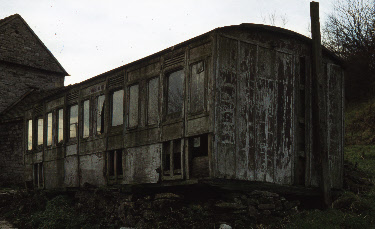 The NSR Board decided to strip a batch of old carriages (stored at Cockshute) from their underframes for this purpose in November 1907, so number 127 had certainly been withdrawn from any active service by then.Some time after closure of the Leek and Manifold Light Railway in the mid 1930s the body of number 127 was moved to a farm at Ecton, also in the Manifold Valley, where it was used as a store shed. A doorway was cut into one end and all the partitions were removed. Unfortunately one of the original doors was lost and the floor entirely rotted away, but it was rescued for preservation in 1980 when the owner kindly presented it to Foxfield.
After arrival at Foxfield Colliery the body of number 127 was used as a workshop and store for carriage and wagon spares. The missing door was replaced with a steel one from a much more modern vehicle. Some preventative maintenance was been carried out on the body to keep the roof watertight, but its condition gradually deteriorated and the glass was vandalised.
When Foxfield Wood sidings were cleared in 2007 it was obvious to a small group of working members at the railway that a salvage plan was needed if the body was to survive at all, and its restoration would be a far greater task than that carried out on number 61.
On 1 July 2007 the body was moved onto a temporary underframe, sheeted, and moved to the Colliery Yard. In spring 2008 it moved down the line to Caverswall Road station, together with the underframe to be modified to enable number 127 to run again. This comes from BR 13 ton Pipe Wagon number B741715, which was acquired in 1994 for the purpose. The "new" underframe was a product of Wolverton Works in 1956, is already vacuum fitted, it has been extended by 6 inches, by modifying the buffer planks at each end. The chassis is now ready for the fitting of the body.
The body has now had almost all extra non-original items removed, and some of the rotten panelling. The upper frame is in good condition, but probably only one of the doors is worth saving. The lower framing and panelling will be almost entirely replaced. Some of the door jambs and other vertical timbers are reusable, but new metal corner brackets will be needed.